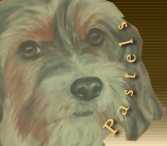 Order An Art Gift Token And Gift Voucher Today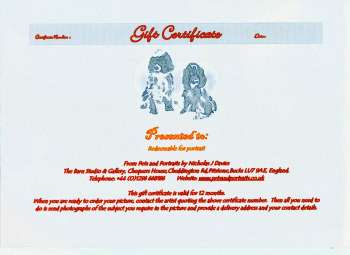 Left it too late to commission a portrait for that special occassion,or maybe you just don't have a photo that is suitable,then a gift token may be the answer. Just choose the value of the token and let me know who it is for, and who it is from and I will send the certificate for you to present. Gift tokens are valid for twelve months and allow the recipient to commission a picture of their personal choice. Send me an e.mail for further information: [email protected]
I have been painting for many years and I am delighted to have brought pleasure to many pet owners around the world. I would love the opportunity to create a beautiful painting for you to cherish also. Pet portraits make ideal gifts for dog lovers, cat lovers and horse lovers. A striking pet portrait will capture your precious memories of a much loved friend.
As an artist, my objective is to capture the true likeness and personality of every pet I paint. I work from your own favourite photographs,and I have had many hundreds of delighted customers. It is,however;my policy to guarantee satisfaction and I will return any deposit paid if a client is not entirely satisfied with the finished work.
I receive commissions from clients woldwide,I also receive requests for special pieces from art galleries and specialist outlets including many in the U.S.A.
N.J. Davies
The Barn Studio and Gallery
Chequers House
Cheddington Road
Pitstone
Bucks
LU7 9AE
England – UK
Tel: +44 (0)1296 668186