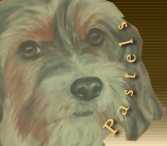 Price Guide

PASTELS . OIL . WATERCOLOUR . PENCIL

****Click on the spinning converter for prices in your currency****

All prices depend on: Picture Size, Medium and Number of Subjects required in the portrait. Add £50 ($89) per additional subject to be included in an oil portrait, and £25 ($45) per additional subject in a pastel portrait.
Here are just a few examples……
PASTEL/PENCIL
10x14inches £110 / 196USD
12x16inches £110 / 214USD
14x18inches £130 / 232USD
16x20inches £140 / 250USD
20x24inches £160 / 285USD
24x36inches £260 / 464USD
OIL ON CANVAS
12x16inches £170 / 303USD
14x18inches £215 / 383USD
16x20inches £250 / 445USD
20x20inches £295 / 525USD
24x30inches £475 / 846USD
30x40inches £790 / 1,407USD
40x60inches £1200 / 2,138USD
NB: Some canvas sizes may vary slightly.
Shipping costs are not included in above prices, please ask for a quote.
Your portrait will be produced using the highest quality materials and a personal guarantee of my fullest attention to producing a high quality portrait for you.
There are many sizes which are not listed, please ask for a quote on any size you require and I will be pleased to help.
No deposit is required with your order, the balance only becomes payable on completion to your full satisfaction.
Watercolour pictures: Please ask for a quote.
METHODS OF PAYMENT
Payment may be made online via 'PAYPAL',it's quick and secure.
It is used by over 20 million people worldwide.
It is also possible to accept your credit or debit card payment by phone if you prefer.
Finally,you may send a cheque made payable to 'Pets and Portraits' to this address (U.K Residents Only):
N J Davies
The Barn Studio and Gallery,
Chequers House,
Cheddington Road,
Pitstone,
Buckinghamshire LU7 9AE,
England.

GIFT TOKENS
Have you left it too late to commission a painting for a special occassion? Or maybe it will prove difficult to get a good photograph without spoiling the surprise.
Purchase a Gift Token as full or part payment towards a portrait. Simply decide how much you would like the value of the token to be, the wording of your choice to be included, and you will be supplied with the token to present as a gift. It's quick and easy, just contact me using the contact form; payment may be made securely through Paypal or Worldpay on this site.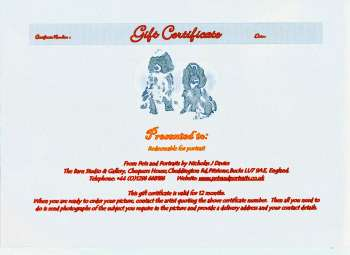 TESTIMONIALS
"I received the picture of Thatcher and Dagny yesterday, it was absolutely spectacular, I'm really thrilled with the way it has turned out …thanks again"
Steve Wachs – Michigan USA
"My brother and his wife loved the portrait of Chelsea. As you know, I was concerned that her character would be difficult to capture, but I could not fault your work in any way! Superb!"
Danielle Mead – Berkshire UK
"I would once again like to thank you very much for the wonderful portrait, you have captured him perfectly and his personality shines through. The picture now hangs in pride of place on my fathers wall and is admired by all visitors. Thank you."
Kay – Buckinghamshire UK
"Thank you for the portrait, Tigger and Shadow look great"
Joanna Gonzalez – Oxfordshire
"Your picture of 'Sam' was lovely, my friend was overwhelmed, it was hanging on the wall within minutes. Thank you so much for an excellent service, and an excellent product; I will definately recommend you."
R.Foster – Staffordshire UK
Other testimonials throughout this site.
N.J. Davies
The Barn Studio and Gallery
Chequers House
Cheddington Road
Pitstone
Bucks
LU7 9AE
England – UK
Tel: +44 (0)1296 668186