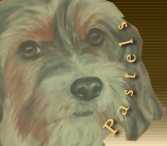 Portraits of Dogs, Cats, Horses and People. Commission A Portrait Of Your Pet, Family Member, Friend or Colleague.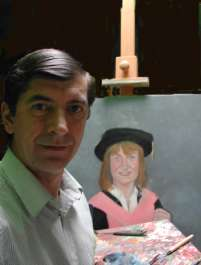 I am a portrait artist specialising in dog paintings dog portraits cat portraits, horse portraits andpaintings of people from photographs. I also enjoy painting pictures from various other themes such as seascapes and landscapes.
My aim is for my finished portraits to express the true character of each subject.
Pets can be the most important friend and companion, and truly a member of the family; an original portrait is a wonderful way to celebrate a cherished pet; or to remember those we have lost. They can also make a unique gift for someone you know to treasure forever.
I also undertake commissions for portraits of people for special occasions; such as:
Special birthdays
Graduations
Retirement
Weddings
Anniversaries
This website shows you a range of my work, including portraits of people, animals paintings and wildlife pictures, in addition to pet portraits. Portraits are usually created from your own photographs and prices start from £90 / USD170. See Price Guide.
Please use the links to visit the respective galleries exhibiting a representative selection of my work.You can find details on how to commission a painting in "How To Order".





I have been painting for many years and I am delighted to have brought pleasure to many pet owners around the world. I would love the opportunity to create a beautiful painting for you to cherish also. Pet portraits make ideal gifts for dog lovers, cat lovers and horse lovers. A striking pet portrait will capture your precious memories of a much loved friend.
As an artist, my objective is to capture the true likeness and personality of every pet I paint. I work from photographs, and to date I have had one hundred per cent delighted customers. It is, however; my policy to guarantee satisfaction and I will return any deposit paid if a client is not entirely satisfied with the finished work.
I receive commissions from clients worldwide, including art galleries in the U.S.A.

Thank you for visiting my website. Please do not hesitate to contact me for advice on any matter regarding a portrait. There is no deposit payable on ordering a portrait, you only pay on completion to your satisfaction.
General Enquiries : [email protected]
Send photo's to : [email protected]
Nick
The painting has arrived. It looks fantastic – I think you have captured the feel that I was hoping you would. Millie looked good in the photo you sent but seeing the painting in real life really does your work justice.

Thank you for a super service – I will have no hesitation in recommending you to friends and colleagues.

Regards,Graham
N.J. Davies
The Barn Studio and Gallery
Chequers House
Cheddington Road
Pitstone
Bucks
LU7 9AE
England – UK
Tel: +44 (0)1296 668186