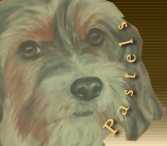 Dog Paintings And Dog Portraits
On this page you will find a gallery of dog paintings in oil. Dogs painted in oil is one of my specialty. A good photograph of your dog is all that is required to do a great pet portrait that you will love and cherish for many years. If you are interested in having a painting of your dog, please Contact me. A painting of your beloved dog is a priceless souvenir of your friendship between you and your pet.
Photographs just can´t do justice to our loyal, beloved pets. That´s why I can offer affordable dog portraits painted from your favorite photo.
Your dog is part of the family. They give you the unconditional love that only an animal can give. They´re loyal, loving, forgiving, sensitive, and they´re always there when you need a friend. The memories you share with a pet are among the most precious you will ever make.
Pet portraits of your dogs are made from your photos which will be returned to you. All paintings are in oil.
All dog portraits come with a money back guarantee.
Oil Portrait – 16 x 12 inches.
Just a short note following my wife's birthday to say what a marvellous painting of Dino you produced ! I wouldn't normally thank someone for reducing my wife to tears but in this case I am pleased to say that they were tears of happiness ! In fact, she was quite overwhelmed by the portrait: it is like having our old dog (who died 2 years ago) looking at us from across the room !
Regards
Mark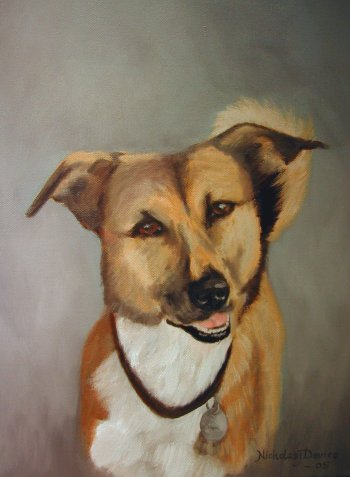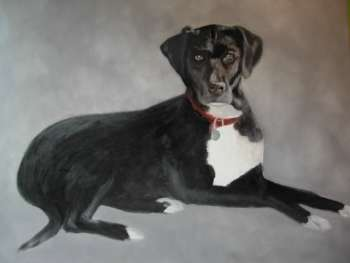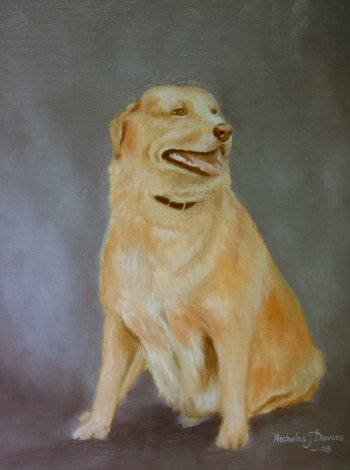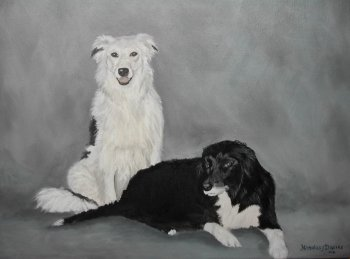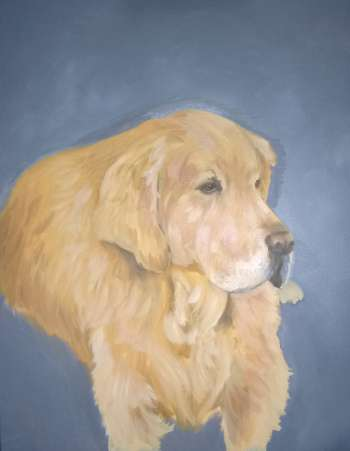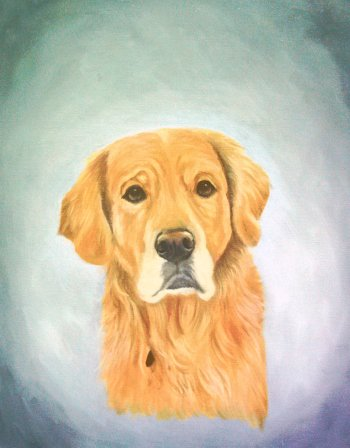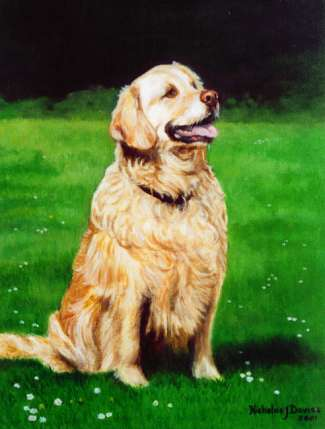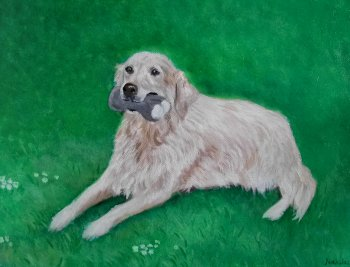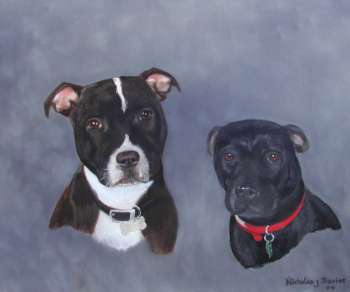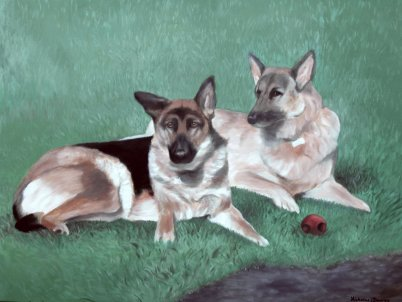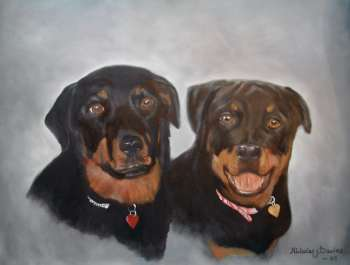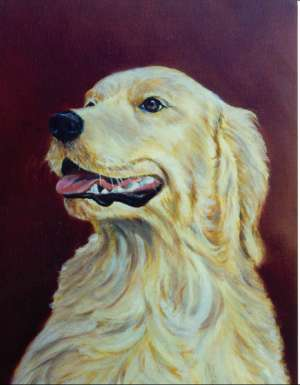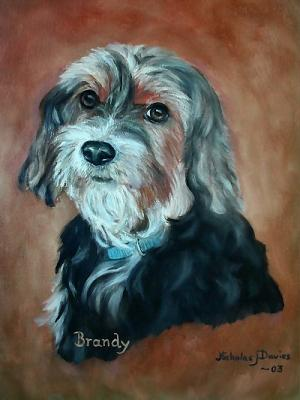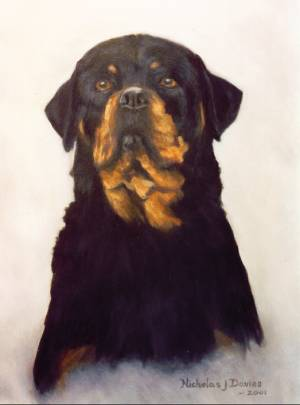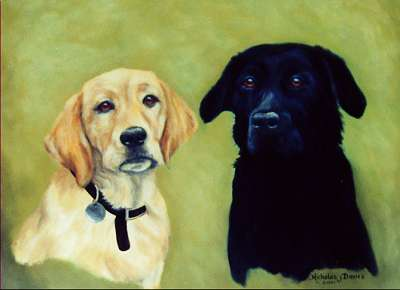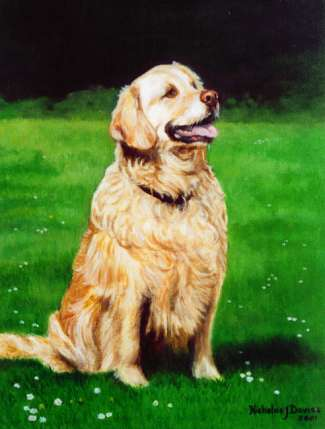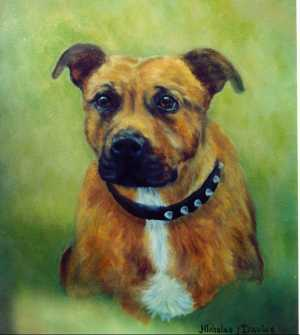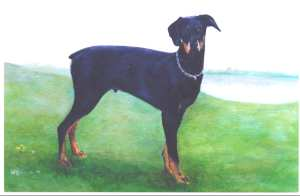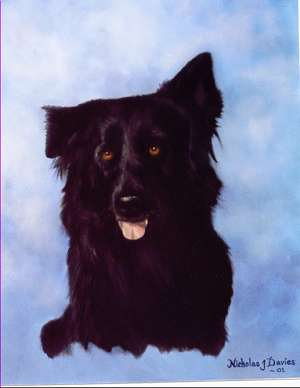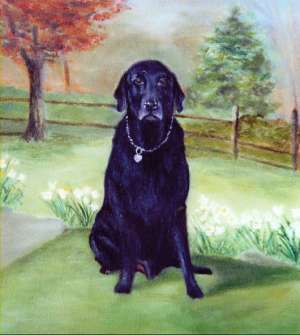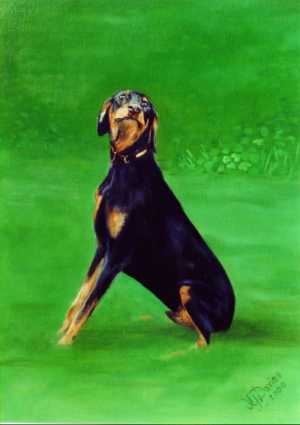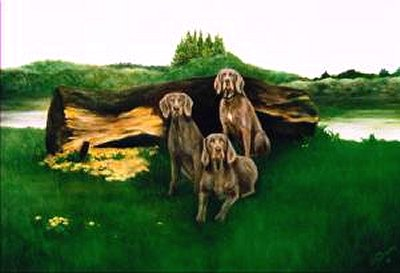 Convert prices to your currency using the gold spinning converter.
A Pet Portrait captures the beauty, sweetness, and personality of your special companion in lifelike detail the way only a true work of art can. Nick can create a true-to-life portrait painted of your beloved best friend, ensuring that you always remember that favorite moment or classic animal expression. These beautiful pet portraits are custom-painted from your favorite photo by animal artist Nick J. Davies.
You can also order Gift Tokens for that last minute gift!
Learn how you can order a portrait of your pet.
A dog portrait is a wonderful keepsake of your pet for you to cherish forever. They also make a thoughtful, unique gift for anyone who loves their dog as much as you do.
N.J. Davies
The Barn Studio and Gallery
Chequers House
Cheddington Road
Pitstone
Bucks
LU7 9AE
England – UK
Tel: +44 (0)1296 668186