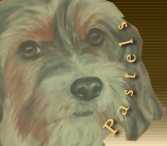 Portraiture – Pictures And Portraits Of Dogs And People
This section is dedicated to the sale of portraiture and other paintings from my studio (subject to availability). Portraits of dogs and famous people, also wildlife, landscapes and seascapes.
Apologies, my stock artwork is currently sold out.
I recently received this e.mail from RDF Media. If you are interested, please let me know and I will pass on your details.
Dear Nicholas,
I hope you don't mind me contacting you out of the blue; I came across your details on the internet and hope you might be able to help me. RDF Media are working with Channel 4 on a new series called Britain's Top Dog, and are looking for dog-lovers all over the country to take part. The series will follow a nationwide search for Britain's most talented and interesting pet dogs through training for a number of challenges including agility, scentwork and heelwork to music. I've attached a press release to this email and would be so grateful if you could pass it on to anyone you think might be interested. It should be great fun for both dogs and owners, who will get access to training from some of the UK's top dog trainers.
Please do give me a call on the number below if you'd like to chat about it or ask any questions.
Many thanks,
Grace
Grace Lilley
Assistant Producer
Britain's Top Dog
RDF Media
N.J. Davies
The Barn Studio and Gallery
Chequers House
Cheddington Road
Pitstone
Bucks
LU7 9AE
England – UK
Tel: +44 (0)1296 668186